Directions to our meetings
STAR meetings are held on the first Thursday of each month (except for July and August) at Monmouth Museum.
From the Garden State Parkway, take exit 109 onto Newman Springs Rd. West (right turn at end of exit). Keep going until you get to the traffic circle. Turn left at the traffic circle, and make the first right. Go to the last parking lot.
Directions to some of our observing locations
Remember to bring your permission letter with you when using any of these locations, or the Police will ask you to leave. If you do not have a permission letter, see one of the club officers at any S*T*A*R meeting.
Please follow common sense when observing, as you are representing the club. Clean up when you leave. No alcohol is permitted at any of these sites.
Colliers Mills
Colliers Mills is near Jackson, NJ.
From the east, head west on 537. Pass Great adventure and keep going, for about 2 miles. You will see an intersection sign shaped like "+" just before the turn you want. There is one prior intersection, but it is a "-|" intersection; you want the "+" intersection, which is Hawkins Rd. Turn left onto Hawkins.
Follow Hawkins Rd. a few miles. You'll pass through a blinking red light. Then about a mile later the road makes a sharp right hand turn. On the left is the dirt road entrance to Colliers Mills.
Go down the dirt road until you come to an intersection. There's a sign pointing to the left that says "ranges." Go left. Continue until you pass under the power transmission lines. The archery range is just after that on the left.
From the West, get onto route 539 south. 539 runs through Allentown, which is near the intersection of the turnpike and 195.
About 10 miles south of Allentown, 539 crosses 537. Continue South on 539. About 2 miles further, you'll come to a light with a Wawa on the opposite left corner. Turn left onto route 528. Drive about 1.5 miles to the blinking yellow light (it's the first light). Turn right.
Drive about 1 mile to where the road makes right hand turn. The dirt road entrance to Colliers is on the left. Follow the above directions from that point.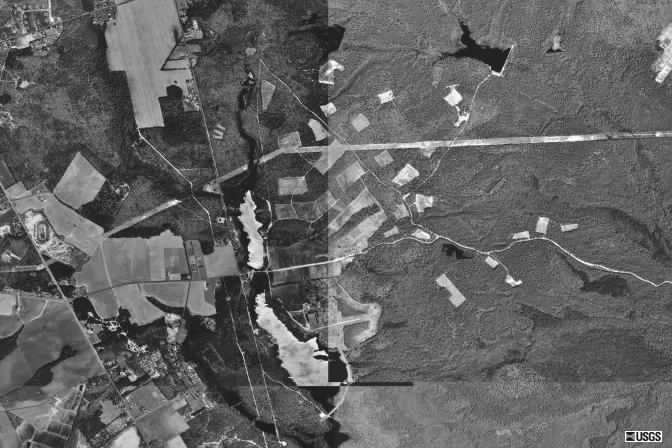 Coyle Field
Go down the Pkwy to Exit 67, turn right onto route 554 (W. Bay Ave.) going west. Follow that road (it merges into Route 72, but you don't have to turn) for a few miles. You'll begin to see the mile markers going down from 13 to 12.
NOTE THE FOLLOWING form a member: The parkway has changed exit 67 to the point where the current directions will not work. I'd suggest changing them to taking exit 63 and taking 72 West from there. continue following the directions as below.
About one and a quarter miles past the 12 mile marker (between 11 and 10, if those markers were still there), you'll see a (brown, with gold lettering, re fire danger) forest service sign on the left. Turn into the dirt road about 250 feet before the sign. The proper dirt road (of several choices), is the one without a fence and closed gate across it. Follow it around staying to the right at the fork. When you come out to the large opening, that's the runway. Look to your left and down near the end of that runway is where we observe. Please keep your lights off.
Greenwood
Take the Garden State Parkway to Exit 80. Stay to the right at the end of the exit but do not turn right at the stop. You must go across to Route 530 West which is also Dover Road. There will be a Gas Station on the left and soon after it a 7-11.
Continue straight on this road through two traffic lights till you get to a stop sign. Go straight across and go exactly 1.4 miles. You will pass two left turns. Follow the paved road. Keep a sharp lookout for the last paved left turn.
It will sneak up on you if you are not paying attention. If you keep going straight the road will eventually turn into a dirt road which means that you went too far and missed the left turn.
After the left, everyone is usually down a ways towards the end on the right or left side.
Blair Witch II
Garden State Parkway South to Exit 88. At exit, go through toll, and then stay right, which should take you to Route 70 West. You'll be going about 14 miles or so, through several traffic circles. You will eventually come to Route 539, and turn left. There is a gas station on the left far corner, and a traffic light at the intersection.
You'll be going south on 539 at this point, and you'll see mile marker 25 quite quickly. You'll need to bear right soon in order to stay on Route 539. Now all you have to do is watch for mile marker 17.
About 1/2 mile after mile marker 17 there's a dirt road on the right. Dan Pontone was nice enough to tape a red reflector around the telephone pole at the turnoff for the dirt road. The dirt road goes straight for about 1.6 miles, then tees into another dirt road. Turn right,
Drive another .7 mile or so to a big clearing on the right. That's the observing field.